The New Age of Software for Additive Manufacturing

We are excited to have co-led the investment in Ai Build, a London-based AI-powered large-scale and robotic 3D printing software developer, in a seed round of $3.2mn.


Additive Manufacturing Market: A Brief Overview

3D printing has evolved from small-scale solutions and prototyping to broader applications, such as moulding and manufacturing of end parts in the Aerospace, Automotive, Architecture, and Construction industries. The terms 3D printing and additive manufacturing can be used interchangeably, but additive manufacturing refers to 3D printing on an industrial scale and utilises more advanced techniques that enable professional large-scale production. According to Global AM Market Report, the market was over $12bn in 2020 and expected to reach around $78bn by 2028.

3D printing has been widely applied by mounting printing heads on 3-axis cartesian robots (linear robots) and is limited to small-scale applications and prototyping purposes. The control of a 3D printer and the printing process hasn't been a significant problem as it wasn't much different than controlling a CNC milling machine which has been in the market since the 1960s. However, as additive manufacturing has started to be used in final parts and products at a much larger scale, the preparation, monitoring, and control of the printing process, has not been able to keep pace with the desired output requirements. In addition, the introduction of 3D printers with a robotic arm has folded the complexity of printing as those have 5 or 6 degrees of freedom (DOF). Although robotic 3D printers allow mass manufacturing of customised products with complex designs, they require precise control of the printing parameters to achieve accurate results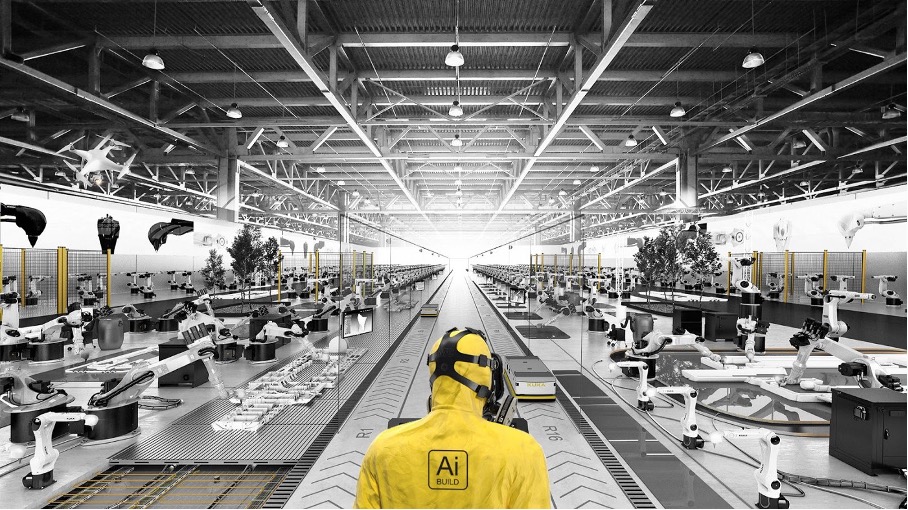 The mainstream additive manufacturing control software is called "Slicer". A slicer software divides objects into a number of layers and moves the print head linearly to complete the printing process. However, they cannot provide the desired flexibility and efficiency in large-scale and robotic 3D printing processes due to their limited control over complex toolpaths. In addition, the preparation process can take weeks, even months due to lack of process knowledge, automation, and control. Process optimisation is required to minimise the drawbacks of the "trial and error" approach and reduce the time, costs, and waste in additive manufacturing.


Unlocking the Potential

Ai Build helps manufacturers and 3D printer producers who want to unlock the full potential of additive manufacturingby eliminating its dependency on human experience and intuition. Ai Build significantly optimises and automates the printing process with a unique technology that enables the building of high-quality 3D printed products in complex large format geometries.


Ai Sync – Toolpath Generation


Ai Build's cloud platform, Ai Sync, combines simplicity with the flexibility to achieve the most advanced 3D printing process optimisation in the industry. Having developed over the last six years of extensive physical testing in the company's R&D lab, the technology automates large-scale 3D printing workflows with multi-axis toolpath optimisation, simulation, real-time control, and remote print management features.

Ai Sync's user-friendly visual programming interface allows any user to create automated workflows with parameters perfectly adjusted for hundreds of challenging printing tasks. It offers unique features at every step of the printing process such as automatic speed adjustment, automatic material compensation, and curvature & cantilever analysis. It reduces the preparation time from weeks to minutes by pre-optimising the printing jobs and running simulations. In contrast to the traditional trial and error method, Ai Sync also has a real-time fault detection feature that allows simultaneous and real-time corrective actions to achieve maximum automatization by capturing printing data through the cameras installed on the printers. The design, optimisation, and manufacturing data are collected in a live library that can be shared across the organization to avoid repetitive, inefficient, and time-consuming processes.

Ai Build's customers have reported that the software reduces overall print time by 90% and failed builds by 65%, and creates parts twice as strong. Committed to sustainability and having processed over 10 tonnes of recycled material to date, the company has already cut 70% greenhouse gas emissions by avoiding unnecessary material production.


Wide range of Hardware and Material Selection

Ai Build collaborates with global leading 3D printer manufacturers and provides their true digital twin, which allows customers to accurately simulate, visualise and monitor the whole process. The cloud platform with a wide range of digital twins also enables customers to remotely print parts where they are needed and save costs and time from shipping and distribution.


Ai Sync – Visualization of Hardware


The company also collaborates with a number of different material manufacturers to explore and identify all possible failures in the printing process. By using the material knowledge acquired from these partners and the data collected during the printing processes, Ai Sync is capable of automatic material compensation by precisely managing the temperature, speed, flow and other critical parameters.


Looking Forward

Ai Sync grows with an increased and loyal customer base and becomes more integrated into business operations as customers aggregate more manufacturing data to the platform. The company will use the funds from this investment round to further grow its sales and customer support teams and introduce new features.


Ai Build's Co-Founders - Daghan Cam (left) and Michail Desyllas (right) have extensive experience in computational design and construction, geometric optimisation, computer vision, and robotics


We are thrilled with the team's achievements in developing an excellent product and validating their platform with leading global customers from the automotive, aerospace, energy and construction sectors. The co-founders have shown strong leadership by attracting a top-notch team. Their vision to enable faster, repeatable and sustainable additive manufacturing through AI and automation is a game changer in scaling production, and to make Ai Build the default operating system for all additive machines will be the foundation of their growth strategy.

We welcome the Ai Build team to our portfolio and look forward to being a part of their journey in developing the next generation of additive manufacturing.