From left to right: Connie Smith (Investment Analyst, Mercia Asset Management), Dr. Erdem Ozturk (CEO), Alexander Leigh (Investment Director for UKI2S), Gurcan Ozan (Partner at ACT Venture Partners), Peter Hopton (Chairman), Kate Woods (Financial Director), Dr. Huseyin Celikag (CTO), Richard Nevill (Commercial Director).
Revolutionizing CNC Milling with Advanced Software Solution to Eliminate Chatter Vibration
CNC milling is a widely used manufacturing process that involves the use of computer-controlled machines to shape and cut materials with great precision. However, chatter vibration is a common problem in CNC milling that can cause poor surface finish, reduced tool life, and even machine damage. Engineers have been trying to find a solution to this problem, but until recently, no commercially available software solution that can deal with the production complexities including 5-axis milling processes was available for the industry.
The phenomenon of chatter vibration in milling machines was first described by pioneering engineer and management consultant Frederick W. Taylor in his 1907 book "On the Art of Cutting Metals". He noted that chatter vibration could cause problems such as poor surface finish, tool wear, and machine damage. For decades, engineers have tried various methods to mitigate chatter vibration in CNC milling, including changing cutting parameters, using different tools, and modifying machine design. However, these methods only provide partial solutions and are often time-consuming and expensive.
Productive Machines' solution is based on advanced algorithms and a powerful computational model that can detect and analyze vibrations at every stage in metal and composite milling jobs. It adjusts the cutting parameters to eliminate chatter, thereby increasing productivity, reducing tool wear, and improving the quality of the finished products.
Unleashing Unprecedented Efficiency: Productive Machines' Solution Revolutionizes CNC Milling with Major Manufacturers Validating Results
Productive Machines has already turned heads in the manufacturing industry with its groundbreaking solution, which has been validated by ten major manufacturers, including renowned names like
Renault
and
MASA Aerospace
. The results are nothing short of astounding – machines configured with Productive Machines' software can now produce parts in half the time it took originally while delivering remarkable surface quality improvements by effectively mitigating chatter vibrations that have long plagued machining processes. In fact, users have reported that cutting tools last up to 30 percent longer on optimized machines and a 25 percent reduction in energy consumption. These impressive outcomes validate the game-changing impact of Productive Machines' solution, revolutionizing the way CNC milling is done and unlocking new levels of efficiency and performance in the manufacturing world.
To support their market deployment, Productive Machines has partnered with
Kistler
, a global leader in dynamic measurement technology, and
Seco
, a leading provider of cutting tools and solutions. Kistler's expertise in measuring and analyzing vibrations, combined with Seco's cutting tool solutions complements Productive Machines' software solution, enabling a comprehensive approach to address chatter vibration in CNC milling.
"Driving Innovation and Expansion: Productive Machines' Vision for the Future"
The future looks bright for Productive Machines as they continue to disrupt the CNC milling industry with their innovative solution. With the recent funding they have secured, Productive Machines is poised to take its AI technology to new heights by delivering it as a fully automated Software-as-a-Service (SaaS) product. This approach will allow them to offer seamless and scalable solutions to their customers, eliminating the need for complex installations and streamlining the adoption process.
Moreover, Productive Machines will leverage its offerings by collaborating with industry leaders to explore new markets and address unmet customer needs on a larger scale. As the demand for more efficient and high-quality machining processes continues to grow, Productive Machines is committed to serving this large industry through collaborations with various machine tool and cutting tool manufacturers.
Productive Machines' vision is not only focused on solving the chatter vibration problem but also on driving innovation in the machining industry as a whole. With their customer-centric approach and dedication to pushing the boundaries of what's possible, Productive Machines is poised to revolutionize the way CNC milling is done, making it more efficient, reliable, and profitable for manufacturers around the world.
There is also a significant market potential for Productive Machines, as Dr. Erdem Ozturk, CEO of the company, comments: "Our cutting-edge technology is already best-in-class in a $400 billion industry that is ripe for optimization. There are three million machines worldwide that could benefit from our AI to become more accurate, productive, and sustainable, and we are eliminating the cost and skill barriers to its adoption".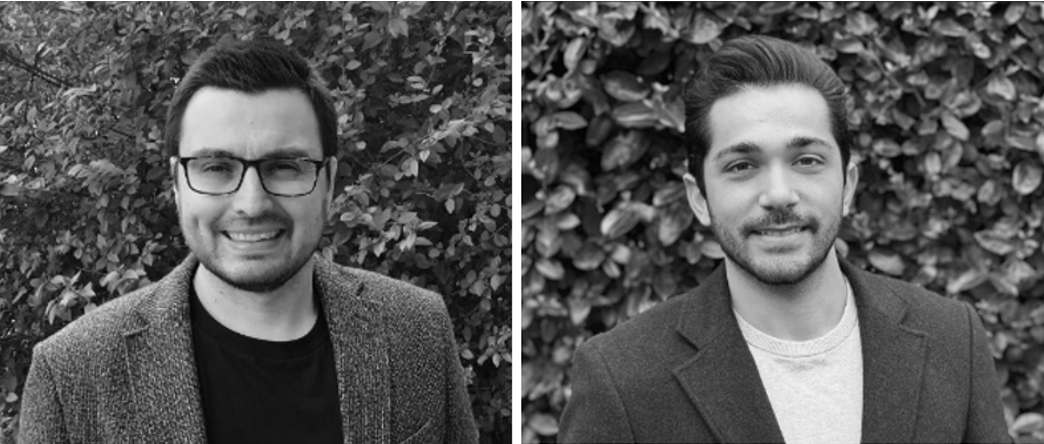 The co-founders of Productive Machines,
Dr. Erdem Ozturk
(left) and
Dr. Huseyin Celikag
(right) have extensive experience in machining dynamics and physics, digital manufacturing, and robotic machining processes.
We welcome Productive Machines to our portfolio and look forward to being a part of their journey to revolutionizing the CNC Milling and machining industry.